Video
Patient Tour
There's no better mouthpiece to advertise your clinic than your own patients. When done the right way, the voice of a previous/current patient recanting their experience at your aesthetic clinic creates a sense of empathy in prospective viewers that really increases their chances of becoming paying clients.
Fashion Commercial
What separates your cosmetic clinic from others? Your level of service? Your unique cosmetic procedures? Your pricing structure? Our fashion commercial video service uses a third-person perspective to explain your unique value proposition to your prospective clients in a visually appealing and elegant manner.
WeChat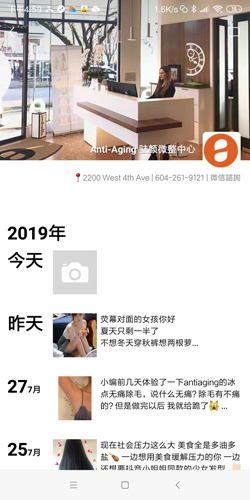 Concierge
Our concierge service delegates the management of your WeChat account to our WeChat team. We'll create posts, make inquiries, and assist your patients to make bookings on your behalf. This relieves the burden of trying to understand the functionality of an app that is largely written in Chinese, while also effectively utilizing the same app to grow your business.
Advertorial
Take advantage of Chobee's WeChat influencer relationships to strengthen your advertising and marketing campaigns. With the top WeChat influencers in Vancouver under an exclusive contract with Chobee, we have a virtual lock on the market. We are number 1 in Canada having published over 250 original medical aesthetic advertorial campaigns in the past 3 years- which is more than numbers 2 through 10 combined!
Up for gallery
Down for analysation
THE CHALLENGE
When Chobee was introduced to the Clinic, they had already identified the Chinese market as being desirable and created a WeChat account, intending to extend their social media marketing through this channel. However, the Clinic employed conventional Western social media tactics and campaigns, and after a year the results were less than encouraging with minimal Follows and an unsatisfying conversion rate to sales.
THE COUNSEL
WECHAT CULTURAL BRANDING
Research revealed that the direct translation of the name 'Anti-Aging' was very intimidating in Chinese. A recommendation was made and accepted by the client to rename the brand 'Retain-Youth' solely for WeChat social media marketing.
WECHAT CONTENT EDITING
The Chobee team carefully examined the text presented on the clinic's WeChat platform and edited all the Chinese language content to be culturally aware and adopted the use of modern phrasing to create a stronger dialogue with visitors.
CLINIC PHOTOGRAPHY
The founders had invested a lot in creating a beautiful luxury environment in the heart of a chic neighborhood and trained their staff to be welcoming and congenial, but severely underestimated the power of this visual. Chobee engaged Art Pro Photography and visually captured the personality of the Clinic as part of its online marketing strategy.
Outcomes
of the initial engagement of Chobee's marketing services
Anti-Aging Medical & Laser Clinic's WeChat account had
doubled
the number of Followers
and in the following six month period, the Clinic achieved an average return on marketing investment (ROMI) of
We'll Text You