With more than 1 Billion ever-present active users, this super-app connects you and your clinic directly to the Chinese market. WeChat combines the power of Amazon, Facebook, Instagram, Uber, and PayPal in one easy-to-access platform. In Vancouver, Chobee represents the Top 3 of the WeChat influencers in the medical aesthetic industry. With our exclusive partnerships and well-constructed mediums for driving qualified leads to your clinic, Chobee is your conduit to this lucrative market.
Advertorial
Take advantage of Chobee's WeChat influencer relationships to strengthen your advertising and marketing campaigns. With the top WeChat influencers in Vancouver under an exclusive contract with Chobee, we have a virtual lock on the market. We are number 1 in Canada having published over 250 original medical aesthetic advertorial campaigns in the past 3 years- which is more than numbers 2 through 10 combined!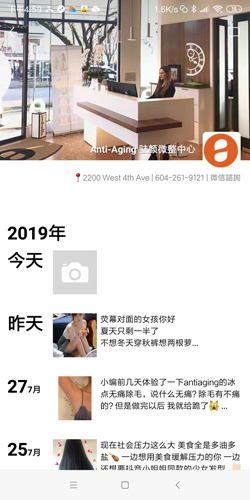 Concierge
Our concierge service delegates the management of your WeChat account to our WeChat team. We'll create posts, make inquiries, and assist your patients to make bookings on your behalf. This relieves the burden of trying to understand the functionality of an app that is largely written in Chinese, while also effectively utilizing the same app to grow your business.
Pay
WeChat Pay is the preferred option for cashless purchasing by Chinese customers, primarily because it is the application they are accustomed to. Aside from this, we've noticed from experience that high net-worth individuals, immigrants, and international students experience difficulties when using traditional banking methods to purchase items and services due to money transfer control laws in their home country. Offering this option makes your clinic more attractive to a wider market.
Chobee News
Aside from our exclusive partnerships with major influencers on WeChat, Chobee also has a rapidly growing news channel that is solely focused on distributing content related to the medical aesthetics industry. Our channel covers product information, regulations, and trends in the aesthetics industry, and it aims to become the bible for aesthetic customers in the Chinese community. We can promote your clinic on our channel to expose your service to an even wider audience.
We'll Text You